Browse Categories
Certifications
Subscribe

Get email updates on new products
High click product
Contact us

Contact Information: Richmor Marketing Office/Factory Add: No.5 Floor, D Building, Bantian International Centre,
No.5 Huancheng South Road,Bantian, Longgang District, Shenzhen, China.
Tel:0086-755-81713882 Email:info@rcmcctv.com Fax:0086-755-82556660-6014 Contact Now
8ch 3 g/4 g Mobile DVR for vehicle solutions
H. 264 compession support 8 CH & 4 channel audio input and video playback;
Support of 8ch D1, CIF and hd1 about 25 fps, 8ch d1-25 fps; Real-time recording: 100FP;
Support of Mobilephone Remote Monitoring
Support for 3 G network: HSDPA/WCDMA/EVDO optional
Support of two high speed USB 2.0 port;
Digital Alarm 8CH input; 2ch digital Alarm output
Support 3 G, WiFi, GPS, G-sensor, gyro sensor module enlargement;
Support 3 G external skirmishes cut-off and power-off; Support for local and remote PTZ control;
3ch RS485 port; support 1Ch RS232 port.
Aluminum materials, heat-proof, ESD protection, damp-proof & dustproof
Support 1t HDD and 128 SD card
Super wide Voltage: DC: + 6v ~ 36v; Output voltage: 12v @ 2a; + 5v @ 0.5a
Low power consumption: normal operating phase < 10w 0.5 W, standby mode <
8ch 4 G HDD Mobile DVR-mdr7008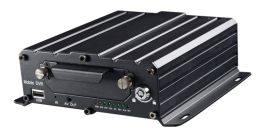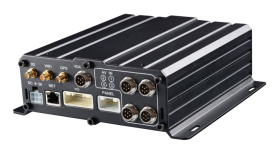 Easy smart GUI interface, save time in the setting of the device.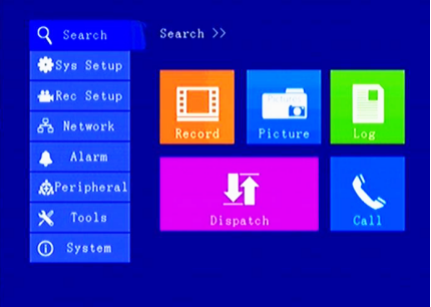 Main features
His solution, h. 264 compression, support 8ch D1 real-time video recording;
3ch 2ch Video output (cvbs video, support for front and rear output;) VGA output for optional).
Exclusive provisional allocation file system protect data completeness, preventing SD map section, date stable and complete.
8-36v wide voltage with low power consumption.
Unique UPS Technology ensure the integrity of the record if the power goes out, even for 8-10s.
HDD + SD card Storage (support 2.5 "HDD, max 128 SD card) protect against shock and dust damage;" support USB port DataBackup and device update;
Support 2 USB ports, DataBackup and device update.
Support 9ch-Alarm input (1ch analog input + 8ch IO alarm input), 2ch independent alarm output.
Support 2CH can like interface.
Support HDD heating functions, can work in harsh environment.
Support for GPS/BD/G-sensor expansion module;
Realization of real-time monitor via 3 G/4 G;
Support WiFi module, can download data automatically.
Configure SMS remote support/control device;
Support broadcast/intercom/text etc, can add oil sensor/temperature sensor/POS/LED advertising Panel;
Support for the function of the voice call.
OTA (on-the-air) function, supported device can automatically updated with the new version, more convenient to maintain.
Support by far the directory monitor of iOS/Android phone.

The product features:
◆ His solution, h. 264 compression, multiple stream recording, max 8ch D1 video support all real time video recording;
◆ High quality real time recording quality/HD1, CIF/D1 optional, adjustable;
◆ Professional auto power-design, 6-36v wide voltage, ensure protection of the reverse voltage/overload/short circuit, to types of car application;
◆ Support 12VDC/3amp output voltage, power supply for camera/screen etc.;
◆ Max 2 HDD + 128 SD card recording, DVR protect against shock & dust damage;
◆ Watchdog abnormal restart function, protecting the SD card and record;
◆ Secure file system data completeness, SD Exclusive map section to prevent, protect the integrity of data;
◆ ACC delay off, setting up 24 hours,
◆ Unique UPS Technology ensure the integrity of the record if the power goes out, even for 10-15s.
◆ Auto/manual Record record record/alarm etc work mode to meet different requirements;
◆ Show car status/plate/driving route/low speed/over-speed information for convenient management;
◆ Support GPS/BD, 3 G/4 G module optional, Wi-Fi expand;
◆ Strong network, configure device via IE Web control, get device support information and configure SMS;
◆ support Monitoring, PTZ, alarm, intercom, excessive speed, geo fence etc via remote control platform;
◆ 8ch alarm input (door open, light, turn direction, brake, reverse etc), can link types-alarm;
◆ 2ch alarm output, support for light and sound alarm sensor, oil/power cut off;
◆ High level aviation interface, easy installation and better shock resistant, more stable;
◆ Support local auto picture when alarm enter.
◆ easy smart GUI interface, save time in the setting of the device;
◆ Strong stable application, support 3 G/4 G real time monitor, talk-back, play, record, photo module etc.;
◆ updated via SD or OTA external automatic updates, more stable and convenient;
◆ Support phone remote directory monitor, telephone etc;
◆ Support PTZ/POS/sensor/oil LED Billboard etc.;
◆ support extension snap-in such as PTZ control, POS machine, oil sensor, LED advertising, etc.
◆ be customized according to your request;

Specification
Item

With the parameter

You

Embeded Linux

System language

English/Chinese/custom

Video compression

H. 264 video compression

OSD

Overlays information such as date time and vehicle ID

GUI

Graphical user interface

Support external monitor screen. Setup of system parameters with the remote control.

Record video system

Video input

8ch standard definition input, aviation Connector, 1 .0vp-P, 75ω

Video output

2 output cvbs + VGA output (optional), 1.0 VP-P, 75ω, aviation, support 1ch full screen, 4 channel screen, 9ch-screen.

Example

Support of 1 channel, 4-channel and 9 channel preview., support manual/Alarm trigger full screen preview

Resolution

D1/HD1/CIF, Max: 8 channels D1.

Video quality

levels 0 -7, 0 is the highest level.

Video standard

PAL: 100f/S, ccir625 line, 50field;

NTSC: 120f/S, ccir525 line, 60field;

CIF: 1.5 Mbps, 256 ~ 8 level video quality optional;

HD1:600 Kbps ~ 2.5 Mbps, 8 level video quality optional;

D1:800 Kbps ~ 3mbps, 8 level video quality optional;

Recording mode

The default is auto recording after enable. Timed recording, alarm recording trigger and manual recording are supported.

Audio

Audio input

4 channel aviation Connector

Audio output

2ch, headset on front panel, BNC connect on back panel

Audio compression

G. 726 compression format, 8/s

Alarm input

7ch Alarm Input, 1ch ad input, pulse speed input, alarm linkage

Alarm output

2ch alarm output, support for light/sound alarm sensor, oil/power outage

Interface

3ch RS232, POS/fuel sensor/LED advertising connection

1ch 485 interface, PTZ camera connect

Wireless

Built-in 3 G transmission, WCDMA, CDMA2000, GPRS, EDGE; support

Built in 4 G-module optional, TDD-LTE, FDD-LTE

GPS

Support for GPS

Storage

HDD

Max 2.5 "2 HDD

SD

Max 128 SD card recording keep data security mirror

Update

Update, update, support USB SD card, external updating OTA

File format

264.

File system

Special FAT32 file system

USB

USB interface on front panel for data back-up by you floppy disk, hard disk

Video Replay

Video search

Search by time/record record type etc

Playback

Max Support 4 channel replay/Stop/Fast/Slow at the same time

Support forward and backward playback with the speed of: x 2

Power consumption

Energy management

Wide voltage. support Timed/delay from

Voltage input

DC: + 6v ~ + 36v

Voltage output

+ 12v @ 2.5a, 5v @ 2.5a

Power

< Work 5w

Work environment

Temperature

-20 to + 70

Humidity

20% to 80%

Safety

Password

2 level different user/admin password

Other

Size

200 (d) 187 (W) * 62 * (h) mm

Net weight

1.90 kg

Optional features

Phone call

Conversation support each other

Option

TTS voice broadcast

TTS voice broadcast support function.

Extend serial

Support LED advertising Panel, oil sensor, POS, bus station broadcasting, auto OBD, external device ect.
Other Products